February 3, 2015
Rockingham County Fairgrounds
Check out the Landcaster Farming article about last year's conference – 2-14-15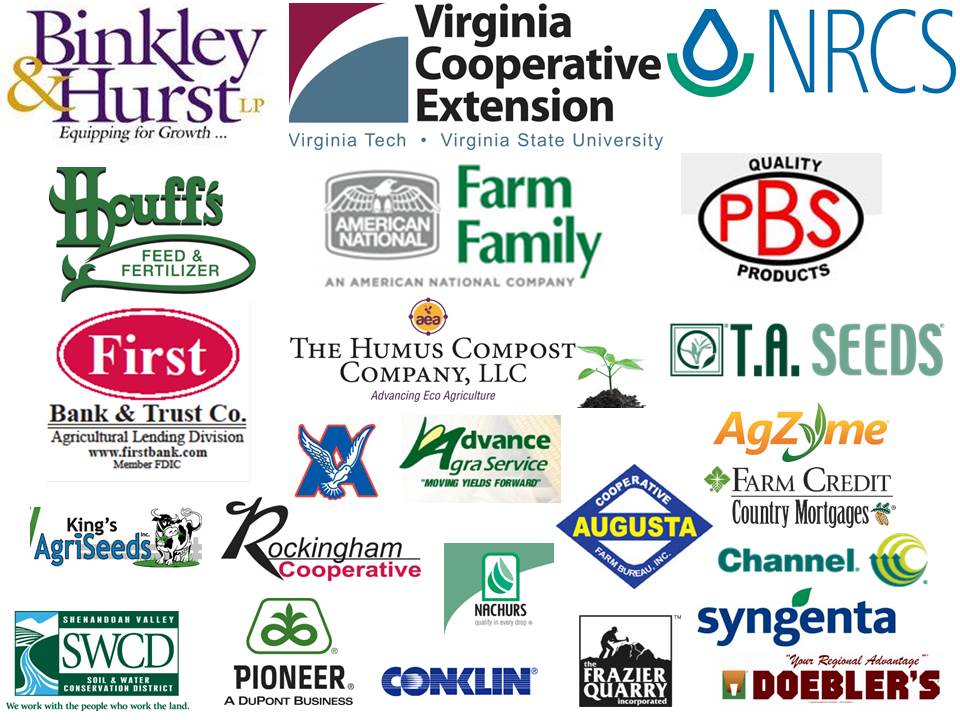 ---
Speaker Bios
Gail Fuller
Gail Fuller of Emporia, Kansas farms over 1,700 acres where he raises 11 to 13 different cash crops, including grain sorghum, triticale, winter barley, winter oats, field peas, corn, and sunflowers and uses another 55 plant species as cover crops. Over the past decade, he has taken no-till farming to the next level on his operation, utilizing highly diverse cover crop mixtures in addition to companion crops growing in season with cash grain crops. Though years of innovative experimenting, he has enabled his operation to drastically reduce fertilizer, insecticide, and herbicide inputs. Mr. Fuller attributes his success to the mentality of "farming in nature's image" by removing monoculture and embracing diversity within the crop rotation. In addition to the diversity he employs in the cropping practices, diversity is also employed in the form of livestock into the crop rotation.
Gerard Troisi
Gerard Troisi currently operates a private crop advisor business on 20,000 acres of farm land in central Pennsylvania, mostly integrating livestock, dairy and cash grain cropping.  His formal education includes a BS in Biology and countless meetings and field days in the last 20
years.  Mr. Troisi believes that in our attempt to control nature we frequently can disrupt natural systems that are of tremendous benefit to all stake holds, landowners, public as well as farmers. He believes that diverse cover crops established between annual cropping have the ability to restore resilience to our natural systems and make our lands more productive. The successful practice of soil health begins with some understanding and certainly requires planning. Mr. Troisi's goal is to help farmers plan for better soil health.  He is active in the Pennsylvania No Till Alliance (www.panotill.org/).
Phil Witmer
Phil Witmer and his wife Terry own Grazeland Dairy, Inc, a 190 cow organic dairy located at Ottobine, Va. The 180 acres at Ottobine is used for rotational grazing for the milking herd and replacements.  An additional 320 acres is rented in Augusta County that provides forage and grain for the dairy.  All acreage is certified organic.
Mark Deavers
Mark Deavers is the current president of the Virginia No Till Alliance.  He farms in the Lacey Springs area of Rockingham County.  He also provides custom no till planting and harvesting services and custom poultry house clean out and litter hauling services.  Mark will share modifications he made to his no till planter to improve seeding accuracy.
Richard Fitzgerald
Richard Fitzgerald owns and operates a private consulting firm doing business as Equity Ag in Virginia. Equity Ag provides testing programs, technical service and on-farm consultations to farmers for improving nutrient cycling in cropping systems to build equity in their operations. Equity Ag also specializes in providing agronomic services to environmental agencies, NGO's and non-profits for projects evaluating nutrient management issues. He also spent twenty years developing nutrient management plans for CAFOs (Confined Animal Feeding Operations) in the Shenandoah Valley of Virginia. Richard grew up on a family dairy operation and liquid fertilizer business in Stuarts Draft Va. where he worked after graduating from Va. Tech in 1979 with a degree in Agronomy.  Richard also worked as an Area Agronomist for the NRCS.  He is a certified professional agronomist and certified nutrient management planner.
Jim Pease
Jim Pease is a Professor of Agricultural Economics in the Department of Agricultural & Applied Economics at Virginia Tech. After growing up on a small farm in western Iowa he obtained degrees from Iowa State University, the University of Wisconsin, and Michigan State University.  He worked 7 years in Central America as a Peace Corps volunteer and small industry researcher. After serving on the faculty at Penn State for 2 years, he joined the faculty of Virginia Tech in 1988.  He conducts extension and applied research programs focused on farm policy, profitability of agricultural businesses, and water quality protection policies. With J. Novak and L. Sanders, his forthcoming textbook "Agricultural Policy in the United States: Evolution and Economics", comes out in March 2015..
His web page can be found at: http://www.aaec.vt.edu/people/faculty/pease-james.html
---
Sponsors
ADVANCE AGRA SERVICE
PO. Box 178
Rocky Mount, VA 24151
540-421-3961
dale@advanceag.net
www.advanceag.net
seed sales & delivery, pesticide sales
AMERICAN NATIONAL FAMILY OF COMPANIES
118 N. Charles St.
Charles Town, WV 25414
304-725-6090
Herald.Bennett@FarmFamily.com
Insurance
ARM – WOOD ASH
PO. Box 3244
Cary, NC 27519
919-302-6684
eblack@nc.rr.com
advancedresiduals.com
By-products for use on agricultural lands
AUGUSTA CO-OP FARM BUREAU
1205B Richmond Rd.
Staunton, VA  24401
540-885-1265
sbratton@augustacoop.com
www.augustacoop.com
Crop protectant applications, crop scouting, fertilizer & micronutrients, no-till drill rental, field services, nutrient management planning
AUGUSTA SEED
PO  Box 899
Verona, VA 24482
540-908-6218
www.AugustaSeed.com
Seed corn
BINKLEY AND HURST
7517 Rushville Rd, Dayton, VA 22821
(800) 735-3584
www.binkleyhurst.com/
New and used equipment sales and service
CHANNEL SEEDS
508 Shuey Rd.
Swoope, VA 24479
540-290-3802
Tomcook62@hughes.net
Seed corn/soybeans/alfalfa
CONKLIN AGRO VANTAGE SYSTEM
540 Mayland Rd.
Broadway, VA  22815
540-810-4560
Lindenbubba@aol.com
Soil & tissue testing, seed treatments, Nitrogen management, starter fertilizers, micro & secondary nutrients, plant growth regulators, foliar fertilizers, adjuvants, forage & silage treatments
DOEBLER'S PA HYBRIDS, INC
202 Tiadaghton Ave.
Jersey Shore, PA  17740
570-533-1947
pbell@doeblers.com
www.doeblers.com
Ag seed and forage inoculant
DuPONT PIONEER
53 Lehigh Rd.
Craigsville, VA  24430
540-290-1323
Brian.jones@pioneer.com
www.pioneer.com
Corn, soybean, wheat, alfalfa, and sorghum seed and services.
EQUITY AG – RICHARD FITZGERALD
345 McKinley Rd.
Middlebrook, VA 24459
540-294-4018
agnuts@hughes.net
Comprehensive Nutrient Management Plans and agronomic consultation
FARM CREDIT
452 N. High St.
Romney, WV 26757
304-822-4173
jroeder@fcvirginias.com
www.farmcreditofvirginias.com
Loans for farms, homes and land
THE FIRST BANK & TRUST COMPANY
120 University Blvd
Harrisonburg, VA 22801
browe@firstbank.com
www.firstbank.com
Agricultural loans
THE FRAZIER QUARRY
3044 Buttermilk Creek Rd.
Harrisonburg, VA  22802
5967 Humes Run Rd.
Elkton, VA  22827
540-434-6192
Kevin.stickley@frazierquarry.com
www.frazierquarry.com
High calcium and high magnesium agricultural lime
HOUFF'S FEED AND FERTILIZER
97 Railside Dr.
Weyers Cave, VA  24486
540-234-9246
dmcallister@idmtrucking.com
www.houffs.com
Custom pesticide/herbicide/fertilizer application, comprehensive crop management, seed sales & seed treatment
THE HUMUS COMPOST COMPANY, LLC
865 Pike Church Rd.
Harrisonburg, VA  22801
540-421-7169
humuscompost@verizon.net
www.humuscomposting.com
Micro-biological Soil Amendments, Foliar Plant Nutrition, Soil Mineral Amendments, Spreading & Spraying Service, Compost, Tissue & soil Testing
JAYLIN FARMS, INC.
335 Emmanuel Church Rd.
Mount Solon, VA 22843
540-421-8698
Custom manure injection and hauling
KINGS AGRISEEDS, INC.
60 N. Ronks Rd., Suite. K
Ronks, PA  17572
717-687-6224
genevieveslocum@kingsagriseeds.com
www.kingsagriseeds.com
Distributors of high energy forages and soil-building cover crops
P BRADLEY & SONS
750 Massanutten St.
Harrisonburg, VA  22802
540-434-2352
Jeremy@pbradleyonline.com
www.Pbradleyonline.com
Agricultural tillage and sprayer equipment and parts
ROCKINGHAM COOPERATIVE FARM BUREAU
107 Depot Rd.
Bridgewater, VA 22812
540/578-4276
www.rockinghamcoop.com
Seed, fertilizer, & crop protection chemicals; pesticide application, fertilizer &lime application, crop scouting & crop management consultation
SHENANDOAH VALLEY SOIL AND WATER CONSERVATION DISTRICT
1934 Deyerle Avenue, Suite B
Harrisonburg, VA 22801
540-433-2853 ext. 120                    
www.svswcd.org
We work with the people who work the land
S L. HESS AND SONS, INC.
1795 South High St.
Harrisonburg, VA 22801
540-434-5916
jeff@slhessandsons.com
Custom application of fertilizer and agricultural chemicals
SYNGENTA
336-553-8174
scott.mink@syngenta.com
www.syngenta.com
Manufacturer of crop protection products
NK seeds (corn/soybeans)
T.A. SEEDS
39 Seeds Ln.
Jersey Shore, PA  17740
570-916-8320
kkiess@taseeds.com
www.taseeds.com
Corn, soybeans, alfalfa, grasses and cover crops
VALLEY FERTILIZER AND CHEMICAL COMPANY
201 Valley Rd.
Mount Jackson, VA 22842
540-477-3121
vfsoil@shentel.net
Custom agricultural fertilizer blending